TRAINING PEMBANGKIT DAN PENGUKURAN LISTRIK TEGANGAN TINGGI
TRAINING HIGH VOLTAGE TESTING
TRAINING HIGH VOLTAGE SURGE GENERATORS
TRAINING PEMBANGKIT & PENGUKURAN LISTRIK TEGANGAN TINGGI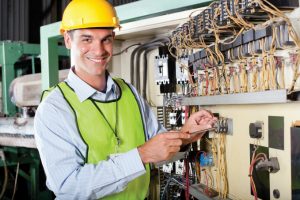 Ketersediaan dan kehandalan sumber daya energi dari daya listrik, menjadi kebutuhan yang sangat mendasar untuk menjamin keberlangsungan sebuah proses industri. Deliveri daya listrik yang besar menuju pusat-pusat beban adalah memerlukan metode tegangan tinggi dan arus tinggi, agar transmisi daya listrik tidak losses di jaringan tegangan tinggi (150kV hingga 700kV), jaringan tegangan menengah (690V hingga 20kV) dan jaringan tegangan rendah (110V hingga 400 V).
Infrastruktur untuk mendukung keberlangsungan deliveri daya listrik yang besar tersebut tentu saja diperlengkapi dengan proteksi terhadap gangguan eksternal yang umum di negara tropis seperti Indonesia yaitu petir atau surja petir, selain gangguan internal yang umum yaitu surja hubung. Kedua gangguan tersebut saat berlangsung harus tidak mengganggu keberlangsungan operasi sistem tenaga listrik.
Kursus ini memberikan pemahaman meluas bagaimana keberlangsungan sistem tenaga listrik pada level tegangan tinggi pada setiap bagian atau anatomi sistem tenaga listrik keseluruhan bilamana terdapat gangguan eksternal dan internal menjangkit ke dalam sistem dan bagaimana sistem proteksi bekerja pada sistem tanpa harus mengakibatkan sistem mati atau fail, sehingga batas bertahan sistem terhadap gangguan dapat dikelola secara baik diantaranya dari informasi hasil pengukuran dan sistem pengukuran yang melekat pada sistem tegangan tinggi tenaga listrik.
TRAINING MATERIAL OUTLINE:
HIGH VOLTAGE GENERATORS FOR TESTING: Generation of High Voltages, Generation of High Alternating Voltages, Cascade arrangement of transformers, Resonant Transformers, High frequency high voltages, Generation of High Direct Voltages, Rectifier circuits, Voltage Multiplier Circuits, Electrostatic generators.
HIGH VOLTAGE SURGE GENERATORS : High Voltage Impulse Generators, Impulse Waveform, Single exponential waveform, Double exponential waveform, Calculation of and from resistance and capacitance values, Definition of Wavefront and Wavetail times of practical waveforms, A valid approximate analysis of double exponential impulse generator circuit, Wavefront and Wavetail Control, Operation of Impulse Generator, Uncontrolled operation, Controlled operation, Trigatron gap, Multi-stage Impulse Generators, Marx Impulse Generator Circuit, Goodlet Impulse Generator Circuit, Simultaneous breakdown of successive sphere gaps, Generation of chopped impulse waveforms.
HIGH VOLTAGE TESTING : High Voltage Testing Procedure, General tests carried out on High voltage equipment, Sustained low-frequency tests, High Voltage direct current tests, High-frequency tests, Surge or impulse tests, Testing of solid dielectric materials, Nature of dielectric breakdown, Determination of dielectric strength of solid dielectrics, Impulse Testing, Voltage Distribution in a Transformer Winding, Tests on Insulators, Type tests, Sample Tests, Routine Tests, Tests on Transformers, Tests on Cables, Tests on Pressurised Cables, Tests on High Voltage Bushings, Bushing, Tests on Bushings, Tests on Porcelain and toughened glass insulators for overhead power lines.
MEASUREMENT OF HIGH VOLTAGES : High Voltage Measurement, Direct Measurement of High Voltages, Electrostatic Voltmeters, Sphere gaps, Transformer and potential divider methods of measurement, Transformer ratio method, Resistive potential divider method, Capacitive potential divider method, Matching of Potential dividers, Measurement of Surges, Klydonograph, General measurements, Peak reading voltmeters, Oscilloscope for measurement of fast transients, Measurements of capacitance and loss tangent, High Voltage Schering Bridge, Dielectric loss measurement using Oscilloscope, Detection of internal discharges, Measurement of dielectric constant and dissipation factor of a liquid dielectric at high using a frequencies resonance method, Ionic Wind Voltmeter, Dumb-bell Voltmeter.
DISCUSSION AND CASES STUDY
WHO SHOULD ATTEND?
Pelatihan ini diberikan pada para teknisi, operator maupun supervisor yang bekerja dibidang operasi dan pemeliharaan infrastruktur ketenagalistrikan yang bekerja pada level tegangan tinggi dan tegangan menengah di industri perminyakan, pertambangan dan industri proses, serta aspek keselamatan dan kesehatan kerja (K3) personal terhadap bahaya tegangan tinggi.
INSTRUCTOR :
Instruktur yang mengajar pelatihan Pembangkit & Pengukuran Listrik Tegangan Tinggi ini adalah instruktur yang berkompeten di bidang Pembangkit & Pengukuran Listrik Tegangan Tinggi baik dari kalangan akademisi maupun praktisi.
Jadwal pelatihan trainingmekatronika.com tahun 2023 :
Batch 1 : 11 – 12 Januari 2023 | 25 – 26 Januari 2023
Batch 2 : 01 – 02 Februari 2023 | 15 – 16 Februari 2023
Batch 3 : 01 – 02 Maret 2023 | 15 – 16 Maret 2023
Batch 4 : 04 – 05 April 2023 | 11 – 12 April 2023
Batch 5 : 10 – 11 Mei 2023 | 24 – 25 Mei 2023
Batch 6 : 07 – 08 Juni 2023 | 21 – 22 Juni 2023
Batch 7 : 12 – 13 Juli 2023 | 26 – 27 Juli 2023
Batch 8 : 09 – 10 Agustus 2023 |23 – 24 Agustus 2023
Batch 9 : 06 – 07 September 2023 | 20 – 21 September 2023
Batch 10 : 04 – 05 Oktober 2023 | 18 – 19 Oktober 2023
Batch 11 :01 – 02 November 2023 | 15 – 16 November 2023
Batch 12 : 05 – 06 Desember 2023 | 12 – 13 Desember 2023
Catatan : Jadwal tersebut dapat disesuaikan dengan kebutuhan calon peserta training MEASUREMENT OF HIGH VOLTAGES pasti jalan
Invetasi dan Lokasi pelatihan HIGH VOLTAGE SURGE GENERATORS di bali :
· Yogyakarta, Hotel 101 (6.500.000 IDR / participant)
· Jakarta, Hotel Amaris Kemang (6.500.000 IDR / participant)
· Bandung, Hotel Neo Dipatiukur (6.500.000 IDR / participant)
· Bali, Hotel Ibis Kuta(7.500.000 IDR / participant)
· Surabaya, Hotel Amaris, Ibis Style (6.000.000 IDR / participant)
· Lombok, Sentosa Resort (7.500.000 IDR / participant)
Catatan : Apabila perusahaan membutuhkan paket in house training, anggaran investasi pelatihan dapat menyesuaikan dengan anggaran perusahaan.
Fasilitas  pelatihan MEASUREMENT OF HIGH VOLTAGES di bali :
FREE Airport pickup service (Gratis Antar jemput Hotel/Bandara/Stasiun/Terminal)
FREE Akomodasi ke tempat pelatihan bagi peserta training HIGH VOLTAGE SURGE GENERATORS bali pasti running
Module / Handout training HIGH VOLTAGE TESTING bali fixed running
FREE Flashdisk
Sertifikat training PEMBANGKIT dan PENGUKURAN LISTRIK TEGANGAN TINGGI di bali murah
FREE Bag or bagpackers (Tas Training)
Training Kit (Dokumentasi photo, Blocknote, ATK, etc)
2xCoffe Break & 1 Lunch, Dinner
FREE Souvenir Exclusive
Training room full AC and Multimedia
.