TRAINING TURBOMACHINERY
TRAINING OPERATION TURBOMACHINERY
TRAINING MAINTENANCE TURBOMACHINERY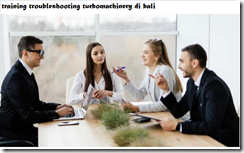 TUJUAN TRAINING :
Diharapkan setelah pelatihan turbomachinery, peserta :
* Mampu mengidentifikasi bagian bagian utama dari turbo machinery
* Memahami prinsip kerja turbomachinery
* Mengetahui prosedur operasi yang efektif
* Mengetahui instrumentasi dan kontrol pada turbomachinery
* Memahami peralatan pendukung turbomachinery
* Mampu menganalisis problem seperti kavitasi, surging, vibrasi
* Mampu mengatasi problem yang terjadi
* Mengetahui prosedur perawatan
CAKUPAN MATERI TRAINING :
* Turbin gas
Prinsip kerja turbin gas
Komponen komponen utama (kompresor, ruang bakar, turbin gas, rotor, sudu rotor)
Prosedur operasi pada turbin gas
Prestasi atau unjuk kerja pada turbin gas
Peralatan pendukung pada turbin gas (sistem starting, sistem pelumasan, sistem bahan bakar, sistem udara pemasukan )
Chooking fenomena, surging, dan vibrasi pada turbin gas
Instrumentasi dan kontrol
Trouble shooting pada turbin gas
Perawatan pada turbin gas
* Turbin Uap
Prinsip kerja turbin uap
Komponen komponen pada turbin uap
Prosedur operasi
Prestasi turbin uap
Sistem pelumasan pada turbin uap
Instrumentasi, kontrol dan peralatan proteksi pada turbin uap
Trouble shooting
* Pompa dan Kompresor
Prinsip kerja pompa dan kompresor
Komponen komponen pompa dan kompresor
Prosedur operasi pompa dan kompresor
Prestasi pompa dan kompresor
Chooking fenomena, surging, kavitasi dan vibrasi pada pompa dan kompresor
Instrumentasi dan kontrol
Trouble shooting
Perawatan pada pompa dan kompresor
INSTRUCTOR : Ir. Maridjo,MT. and team
TRAINING INSTRUCTOR
Ir. Maridjo,MT. is alumnus from Mechanical Engineering Bandung Institute of Technology (ITB). He has been lecturer at PEDC and now as lecturer at mechanical engineering Polytechnique ITB (POLBAN). Ir. Maridjo has taught many topics related to his expertise to many companies in Indonesia, such as predictive and preventive maintenance, lubrication system, diesel machine, pump, gas turbine, piping and pipeline, compressor, boiler, and many others. Many participants from companies have been trained and collaborated with him such as Chevron, Semen Gresik, semen Baturaja, Pertamina, Pusri, GGPC, employee of Qatar and lybia oil and gas company, UP IV Balonganpertamina, PT. Indocement, some PLTA, some hotels, PT.PupukKujang, PT.BioFarma, BPPT, PT. BintangAgung, some other oil and gas companies in Indonesia and etc. Ir.Maridjo has been researching and publishing the results on his core competencies on academics standing.
Jadwal pelatihan operation turbomachinery di bali :
· 2 – 4 Januari 2019
· 6 – 8 Februari 2019
· 4 – 6 Maret 2019
· 1 – 4 April 2019
· 16 – 18 April 2019
· 2 – 4 Me 2019
· 27 – 29 Mei 2019
· 25 – 27 Juni 2019
· 23 – 25 Juli 2019
· 19 – 21 Agustus 2019
· 24 – 26 September 2019
· 22 – 24 Oktober 2019
· 11 – 13 November 2019
· 18 – 20 Desember 2019
Catatan : Jadwal tersebut dapat disesuaikan dengan kebutuhan calon peserta training troubleshooting turbomachinery pasti jalan
Invetasi dan Lokasi pelatihan maintenance turbomachinery di bali :
· Yogyakarta, Hotel 101 (6.500.000 IDR / participant)
· Jakarta, Hotel Amaris Kemang (6.500.000 IDR / participant)
· Bandung, Hotel Neo Dipatiukur (6.500.000 IDR / participant)
· Bali, Hotel Ibis Kuta(7.500.000 IDR / participant)
· Surabaya, Hotel Amaris, Ibis Style (6.000.000 IDR / participant)
· Lombok, Sentosa Resort (7.500.000 IDR / participant)
Catatan : Apabila perusahaan membutuhkan paket in house training, anggaran investasi pelatihan dapat menyesuaikan dengan anggaran perusahaan.
Fasilitas pelatihan troubleshooting turbomachinery di bali :
FREE Airport pickup service (Gratis Antar jemput Hotel/Bandara/Stasiun/Terminal)
FREE Akomodasi ke tempat pelatihan bagi peserta training maintenance turbomachinery bali pasti running
Module / Handout training operation turbomachinery bali fixed running
FREE Flashdisk
Sertifikat training turbomachinery di bali murah
FREE Bag or bagpackers (Tas Training)
Training Kit (Dokumentasi photo, Blocknote, ATK, etc)
2xCoffe Break & 1 Lunch, Dinner
FREE Souvenir Exclusive
Training room full AC and Multimedia
.